Life is made up of decisions and choices and this is especially true when it comes to building a new house. The basic difference in building a "Landscape Timber" house, as opposed to other types of construction, is building the walls. More about this later. At this point you may ask the question, "Why would anyone want to build a house out of landscape timbers?" Other people may even add a second question, "What is a landscape timber?" In the following comments and information I will do my best to answer these questions.

The primary reasons for building a landscape timber house were (1) lower building costs and (2) the fact it would be a 'non traditional' house.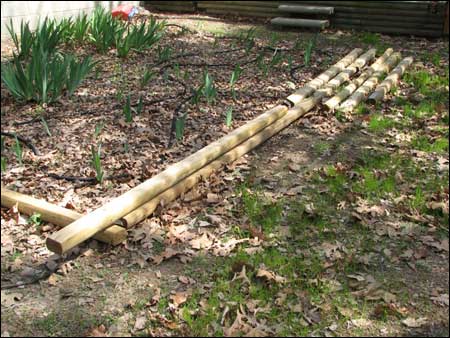 Now, to the second question, "What is a landscape timber?" It is a small log that is often seen in flower beds, retaining walls and in Wal-Mart parking lots, when shrubs, plants and landscaping materials go on sale. It is also the heart of a log that has all the boards sawed off to make lumber. It's the center part that is left over, like an apple core. They come in several different widths, but all are 8 ft. long, with a flat place on each side. These used for our house are called "jumbo" for all the walls. The preferred way most are sold is after they are 'treated' so they will last much longer when used out of doors in the weather. Believe it or not, you can build a beautiful house out of these small logs and because they are light weight, almost anyone can carry and handle them. I have included a photo so you can see what they look like.
Of course, another great feature is that they can be cut to any size and shape, therefore reducing the waste to almost nothing. The type of soil and the terrain would dictate to some degree the type of foundation the house is to be built on, but a "Landscape Timber" house can be constructed on either a 'sub-floor' with crawl space or on a concrete slab.The sub-floor is much easier to work with because it is built on top of a concrete block foundation with floor joists and concrete piers for supports.This decision may determine the placement of the duct work for heating and cooling. With a house constructed from landscape timbers you have the same flexibility in terms of porches and decks, as with other types of construction. You should always use 'treated' lumber for decks and porches or any other area that will be exposed to the weather.
The primary difference in this type of house is the way the walls are constructed. The walls are anchored to the plywood sub-floor by using treated 2' X 4's (any length to cover the distance) and create double stacks. In other words, nail one 2' X 4' on top of another to get a double thickness. We used 16 penny nails to fasten them together to get a good hold. Should you decide to build your landscape timber house on a a concrete slab it is necessary to place 5 inch bolts every two feet all the way around the parameter, plus where you want the inside walls to be. This must be done while the concrete is still wet, before it sets up and dries, to anchor them in place.
The bolts should stick up above the concrete at least 2 1/2 INCHES, enough to take two widths of 2x4s and nuts on the bolts. Before setting the top 2' x 4' in place, drill a shallow hole with an oversize bit, to match the bolts, so the nut can be recessed into the top 2' x 4'. This will prevent the bolts from sticking up above the 2' x 4's and causing problems when building the walls. Your sub-floor or concrete slab should be high enough off the ground so that water does not run in when you have a good rain. (If you ever do.) Other decisions involving the construction process would be just like any other house.